SS Peter and Paul, Uppingham, Rutland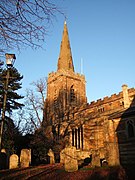 SS Peter and Paul has a ring of 8 bells, further details of which can be found on Dove's Guide here.
There are toilet facilities in the hall, which is 50 yards from the ringing chamber. The ringing chamber itself is accessed by a wide, short spiral stair with about 10 steps.
There is all day parking off North Street East, (opposite the fish shop), for £5.30, just a one minute walk from th church. Free parking can be found beside the school cricket grounds in Seaton Road, or along the town football pitches in Gainsborough Road, both of which are within a 5 minute walk.